COKE BATTERIES
HUTNÍ PROJEKT Frýdek-Místek is able to prepare different types of coke oven batteries and pilot coking furnace in relation to the dimensions of the chamber and method of heat tracing or ducts. In the past we addressed these types of batteries:
Classic coke oven batteries:
COBS5-HP Top with a charge operation, chamber 5.0m high
COBS7-HP large-spaced with Top-charge operation, chamber 7.1 meters high
COBP-HP with stamp charge operation, chamber 3.6m high (0.44 m width of the chamber)
COBP2-HP with stamp charge operation, chamber height 3.5m (0.515 m width of the chamber)
COBP5.5-HP with stamp charge operation, chamber height 5.5m
Batteries of Heat Recovery /Non Recovery/ types
HR battery with a height of 2.66m the chamber in the crown and a width of 2.75m the chamber with the lower flue gas including the entire energy delivery for heat recovery of flue gas to produce steam or electricity.
Pilot Ovens (testing ovens)
PO500-HP for approx 500 kg coal charge. Simulation of carbonisation process with oven wall pressure determination.  Gas cleaning system facilities. Stamp charge operation, simulation of density for top charge available.
PO250-HP for approx 250 kg coal charge. Simulation of carbonisation process with oven wall pressure determination.  Gas cleaning system facilities. Stamp charge operation, simulation of density for top charge available.
PO60-HP for approx 60 kg coal charge. Simulation of carbonisation process with oven wall pressure determination.  Gas cleaning system facilities. Stamp charge operation, simulation of density for top charge available.
The SHO test furnace for measuring of expansion of coking coals. The SHO furnace is designed in a two-chamber design with electric heating of the furnace bottom.
The capacity of each chamber is 6kg of coal.
The operation of the furnace is controlled automatically and the test results are recorded in a connected industrial PC.
Leaflets of the company:
Coke quenching
Installation of quenching tower WQ20-HP used to reduce dust emissions from the quenching tower into the air below BAT limits (20g/tcks)
Laboratory equipment – Dasfos
System RF – 33 for determining of the reactivity and strength coke test CRI – CSR
System RF – 33/KK for production of 10kg of coke and determining coke properties CRI – CSR
System RF – 33/TV for determining of coke properties CRI – CSR with thermos-weight with reproducibility 0,5 g.
Plastometer PF – 22 – plastometer by Gieseler as per ASTM D 2639
Dilatometer DF – 7 – as per norm ISO 349, DIN 739, ISO 8264
Thermal technical services
Supervision during the lining of coke oven batteries
Technical supervision of the implementation of refractory linings as per project documentation
Technical supervision of the technological equipment assembly related to the downstream refractory brickwork
Supervision of comprehensive tests during a running-operation
Complex activity cover activity of acceptances of refractory
Drying and heating-up coke oven batteries
Drying and heating-up of coke oven batteries using thermocouples with wireless technology for data collection
Laboratory of dilatometer tests and chemical composition of refractory
Elaboration of drying curve
Regulation of the anchoring ties of coke batteries
Checking & control activity via regulating the anchoring as per to project documentation
Temperature and pressure control of coke oven batteries
Measurements of temperature, flue gas analysis and adjustment of the pressure modes
Optimization of thermal regime with respect to emissions and battery age
Audits of coke oven batteries
Measurement of the temperature and pressure conditions
Measurement of flue gas analysis
Measurements of tightness masonry coke batteries
Check for damage to the brickwork and flue chambers
Services offered in the chemical industry
The determination of the balance of existing and new technologies
Optimization of technological hubs
Proposals for new technological equipment (ChemCAD)
Offered technological nodes
Coarse and fine condensation
Primary and final gas cooling
Tar separation from the coke oven gas (electrostatic or mechanical filters)
Gas transportation
Washing out of BTX hydrocarbons from coke oven gas
Processing of phenol-ammonia plants, including biological wastewater treatment plant
De-sulphurization technology
By Ammonia
H2S in the purified coke gas ≤ 0.4 g / Nm3
NH3 in the purified coke gas ≤ 0.03 g / Nm3
The product desulfurization, sulphur is a purity of 99.9%
Vacuum carbonate
H2S in the purified coke gas ≤ 0.1 g / Nm3
NH3 in the purified coke gas ≤ 0.03 g / Nm3
Desulphurization product is sulfuric acid having a purity of 94% or sulfur having a purity of 99.9%
Oxidation (Stretford)
H2S in the purified coke gas ≤ 0.05 g / Nm3
NH3 in the purified coke gas ≤ 0.03 g / Nm3
Desulphurization product sulphur having a purity up-to 98.5%
Offered machinery in greater detail:
Cokery:
Machines for coke oven batteries for top charge & step charge operation
Operating machines of coke oven batteries
Coal and coke service
Machines for bulk handling operation:
Scrapers
Gantry belt stackers and gantry bucket-chain reclaimers
Bucket-wheel stacker/reclaimers
Grab cranes
Raw material (coal and ore) processing plants:
Complete solution from input of mined out material to the sorted material shipment
Coal handling of heating and power plants:
Complete solution of fuel transport from input (tilt) to the boilers
Bulk material storage, handling and preparation:
Complete solution of storage including material conveyance lines
Processing plant raw materials (coal and ore)
Complete solutions from entering mined product, after sorting generic expedition
Coaling heat and power plants:
Complete transport solutions from arrival (tilt) to transport fuel for boilers
Storage, handling and preparation of raw materials – solids:
complete solution including storage, transport routes
These units are assembled from particular machines and equipment that are offered separately as a part of repairs, modernization, etc. it is for example:
Machine, wagon and car carriages
Drive units and systems (chain and rope)
Pressureless and pressure piping systems and pipelines customized according to the customer's specifications (circular, shaped, special)
Pressure water pumping and distribution systems
Cranes and lifting gear
Equipment for breaking of frozen load on wagons
Transfer ladle and scrap cars
The equipment is, of course, provided based on turnkey delivery which includes a solution ensuring compliance with emission limits and environmental requirements including commissioning and handover to the customer.
Dust removal and desulphurization of energy sources
Dust removal, DeSOx and DeNOx boilers in power plants based on processed Basic Design Licensor
BTP-HP Aquachemie (Biological Treatment Plant)
Design BWWTP for industrial applications to achieve up to 70% re-utilization of waste water technology with the use of membrane separation processes (reverse osmosis)
Venting & Sealing
Prevention of leakage of harmful substances from individual operating facilities into the air with an inert medium (nitrogen)
DeSOx and DeNOx – FlueFlex
FlueFlex technology is used for flue gas desulfurization and denitrification of coking batteries. Technology takes place in two main steps:
1) Reduction of SO2 protection technologies DeNOx and achieve the desired SO2 concentration > 30 mg / Nm3 by using semi-dry lime or ammonia method.
2) Denitrification for achieving NOx concentration> 30 mg / Nm3 by means of conventional catalytic methods (catalytic reactor) or a combined device (common filter and the catalytic reactor, a bag filter with an embedded catalyst).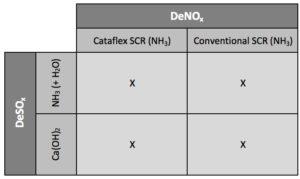 HUTNÍ PROJEKT Frýdek-Místek a.s. gained in recent a few years rich experience in constructions. The biggest orders implemented by our company exceeded 20 millon EUR and demonstrated ability of our ECP team capable of the implementation spread-large and technically demanding construction simultaneously. A relation of technical-level design teams and experienced team of engineering services offering to investors greater value in the ability, flexibly, respond to suggestions from investor in all phases of construction from the creation of project documentation to the stage of actual construction enabling immediate projection of new ideas increases the utility value of the building and representing the savings of spent funds:
Range of our services
Execution of technological and civil facilities according Project documentation already own by client
Execution of the construction along with other organization´s teams
Execution of facilities with direct ties to foreign suppliers according to its documentation
Coordination of other companies in construction (construction management)
Commissioning of new projects and technological complexes into operation – the coordination of individual tests, complex tests and pilot operation
Designing activities and services during construction
Pre-devising preparation
Complex pre-project & pre-design activities include Investment study.
Design activity
Documentation as per EIA (Act No.100 / 2001 Sb.), Including consultations
Documentation IPPC (Act No.76 / 2002 Sb.), Including consultations
Documentation for "Area approval" (law 501/2006 Coll.) Including Area approval
Documentation for "Construction permit" (law 499/2006 Coll.), Including Construction permit
Energy Performance Certificate – PENB
Site work management
The documentation for a contractor builder (also in cases of public tenders)
Documentation for Site Erection (Decree 499/2006 Coll.)
Documentation of As build, including "RedCorrect" documentation
All documents are processed and done by an authorized person
The activities during erection
Presents of authorized supervision
Presents on behalf of investors technical supervision
Provision of OSH Coordinator on site (Act No.309 / 2006 Coll.)
Preparation of documentation for commissioning (operating instructions)
Participation during commissioning – individual and comprehensive testing, pilot operation
The preparation of the approval process, including the incorporation of comments from approval committee
Currently is the Designing undergoing a change, not only in the Czech Republic from 2D – drawings to 3D modelling. Our company HUTNI PROJEKT Frydek-Mistek a.s., in thia metter very active and we offer processing of complex projects in 3D.
The use of 3D modelling software
– Advance Steel – Steel structures
– Building Design Suite (Revit) – construction part, HVAC, electrical
– AutoCAD Civil 3D – Road&Transport construction
– Plant Design Suite – piping systems
– CREO (previously ProEngineer) – technological equipment
– EPLAN – electro
Software used for coordination and control of 3D models
– Autodesk NavisWorks
BIM (Building Information Modeling)
– 3D models HPFM contain information about the material, element type, class, etc. pipeline.
– Developing a model 4D = 3D model contains a timeline (Timeliner)
– Developing a model 5D = 4D to model are complemented including construction costs
Product description:
RCAT®-3000
RCAT®-3000 is a nickel-based catalyst on high resistance magnesium oxide carrier, used for decomposition of NH3 in coke oven gas.
Utilization of the catalyst is in ammonia decomposition furnaces upstream of Claus reactors. Catalyst is produced in the shape of Raschig rings with dimensions 20x20x4 cm. As the temperature in ammonia decomposition furnace exceeds 1000 °C, we recommend using the catalyst in combination with ABSM – high purity alumina balls – to extend the catalyst lifetime.
RCAT®-9001
Outlet gas from the ammonia decomposition furnace is further treated in Claus reactors, where sulphur compounds are converted to elemental sulphur. Standard catalyst for the Claus process is alumina based RCAT®-9001.
Process temperature of the Claus reactors is significantly lower than in the case of ammonia decomposition furnace (200-320 °C). Catalyst is supplied in the shape of spheres with diameter 4-6 mm together with high resistance ceramic balls CBSM protecting the catalyst and improving its lifetime.
RCAT®-9002
RCAT®-9002 serves as an alternative catalyst for desulphurization of industrial gases in Claus reactors. In contrast with standard alumina-based Claus process catalyst, RCAT®-9002 contains TiO2 to promote COS/CS2 hydrolysis and to improve overall efficiency of desulphurization process. Even though this catalyst is highly porous, it shows excellent mechanical and temperature resistance. RCAT®-9002 can be used in also in combination with RCAT®-9001.
Oxygen surplus in Claus reactors often leads to a sulphatation of the catalyst. Covering of the catalyst surface with sulphates reduces catalysts activity and overall efficiency of the desulphurisation process.
Increase the catalyst resistance against sulphatation using RCAT®-9003 a RCAT®-9004.
RCAT®-9003
TiO2 based catalyst RCAT®-9003 is produced in a shape of oval extrudates with diameter 3-5 mm. Apart from increased catalytic activity, RCAT®-9003 shows higher resistance against sulphatation. TiO2 based Claus catalyst can be filled in the reactors separately or together with RCAT®-9001 a RCAT®-9002.
RCAT®-9004
Oxygen poisoning of the standard Claus process catalyst can be avoided by using iron promoted catalyst RCAT®-9004. Catalyst improves resistance of standard Claus catalysts. It is produced in shape of spheres with diameter 4-6 mm.
Documents to download: