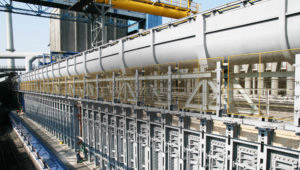 HUTNI PROJEKT Frydek-Mistek a.s. designs and supply all equipment associated with the production of coke. Coke is produced in the coke oven batteries. In terms of the type coke oven batteries we offer classic coke oven batteries (top and stamp charged) and also Heat (Non) Recovery batteries.
All types of batteries are designed with the necessary machinery (anchoring, panelling, doors, heating fittings, changing facilities, a suction device) and service machines. Of course there is a device for dust removal from coke and other features and innovations that serve to reduce the impact of operations on the environment (BAT limits).
With the coke are also related other service businesses that HUTNI PROJEKT Frydek-Mistek a.s. supplies and design. These unites are:
the coal charge preparation – Thawing, coal storage (outdoor and indoor), grinding, mixing and transport of coal charge on the coal tower and so on.
Coke quenching – quenching tower and settling sump
Coke Service – transport and sorting coke, grinding and drying of coke dust etc.
Pilot coke ovens
A separate chapter in this sector are Pilot coke ovens, which are used for determining the properties (especially invasive pressures) of coal. HUTNI PROJEKT Frydek-Mistek a.s. supply turnkey projects of various types of Pilot ovens according to customer requirements. Each oven is designed and implemented as a unique device.
Leaflet of the company